In addition to their use in jewelry, precious metals also provide excellent physical and chemical properties (e.g., the corrosion resistance of gold and platinum, the electrical conductivity of silver, etc.) that make them important materials in various industries such as the electrical/electronic equipment and the medical devices industry.
We provide various precious metal materials used in these indutries in wide variety of forms ranging from regular forms such as fine wires and strips to cutting products, composite contacts point, components
assembled with copper
alloys, and clad strips.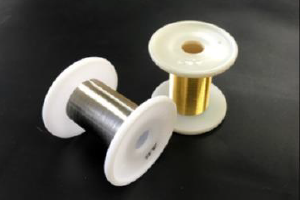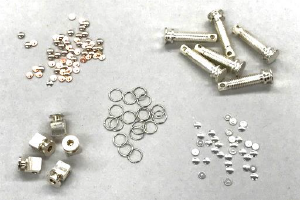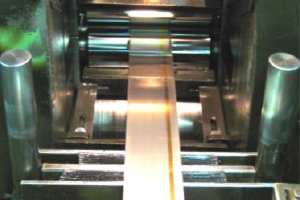 We also supply platinum-based components for medical devices such as thin-walled cutting pipes and springs of fine wire.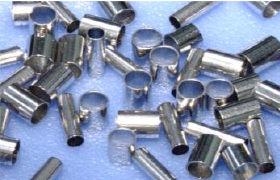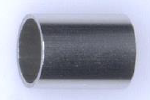 ●Machining result
Outside diameter : From 0.3mm
Wall thickness : From 0.02mm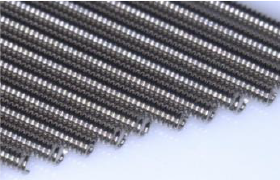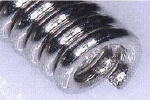 ●Machining result
Outside diameter : From 0.3mm
Wire diameter : From 0.04mm
*Main product line
| Application | Materials |
| --- | --- |
| Electrical contact materials for communication devices | Pure Au, pure Ag, binary alloy of Au-Ag(Au60~92%) |
| Fuses | Pure Ag, binary alloy of Ag-Cu, ternary alloy of Ag-Cu-Zn(Ag40~50%) |
| Thermostat contact point | 69%Au‐25%Ag‐Pt(PGS) |
| Contact probes | 75%Au-Ag-Cu, ternary alloy of Ag-Pd-Cu(Pd30~40%) |
| Commutators and brush materials for micro-motors | Quintuple or sextuple Au-based alloys, binary alloy of Ag-Pd (40-70% Ag), and their clad strips |
| Various sensors | Pure Pt, Pt-Pd |
| Vapor deposition materials for crystal oscillators | Pure Au, Pure Ag |
| Medical devices | Pure Pt, Pure Au, Pure Ag, Pt-Ir, Pt-Ni |